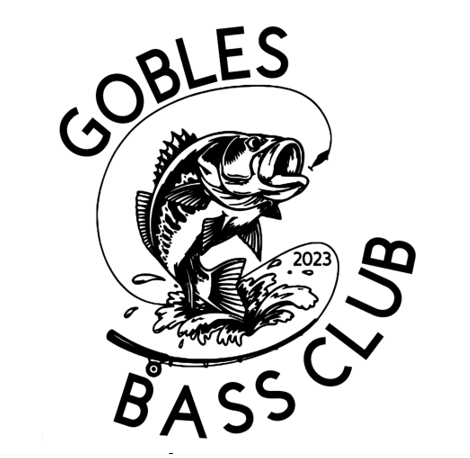 Schedule for the Gobles Bass Club
Sunday June 4 – Saddle Lake (Van Buren county) 4:00pm-8:00pm
Sunday June 25 – Base Line Lake (Allegan county) 4:00pm-8:00pm
Sunday July 9 – Duck Lake (Allegan county) 4:00pm-8:00pm
Sunday July 23 – North Scott Lake (Van Buren County) 4:00pm-8:00pm
Sunday August 6 – Eagle Lake (Allegan county) 4:00pm-8:00pm
Sunday August 20 – Swan Lake (Allegan county) Classic 4:00pm-8:00pm
2023 Tournament results
Once we start tournaments we will post the results from each tournament on this page
(An example of what the results will look like are posted below)
Rules and Regulations
These tournaments are for middle and high school students, age groups are 6th graders through 12th graders, all senior are allowed to fish these tournaments also
All members must strictly obey all state and local fish, game, and watercraft laws and regulations.
By Club rules Each team can only have five bass in their live well during any club tournament, Anyone having more than 5 bass in their live well could face club penalties. We will only be weighing in the teams best 3 bass.
All bass must be transported to the weigh-in scales in a bag with adequate water and released after weigh in.
Bow light will be turned on once the sunset hits, and all running lights are to be on once the sunset hits and the big motor is running.
Anyone who offers a fish to another member or asks a for a fish from anyone; or accepts a fish from anyone will be disqualified from the tournament.
A 100 foot perimeter must be allowed to all other boaters while fishing, the only exception is you must let someone pass you while fishing creeks and channels.
No littering, consumption of alcoholic beverages or illegal drugs are allowed during tournaments
The tournament director will make all decisions regarding the interpretation of the rules. All disputes involving scoring shall be settled at the tournament when possible. The tournament director's decision shall be final. The tournament directors timepiece is the official time piece.
While outboard motor is in use life jackets are to be worn by all individuals in the boat
Boat must carry reasonable liability insurance;
Tournaments start on June 4th and run through August 20th
They will take place on Sunday evenings from 3pm-7pm
Will have 5 tournaments and a club classic (for a total of six tournaments)
The goal is to stick within 15-20 minutes from Gobles high school
Club Fee are $10 for each young person attending, which will get them a club t-shirt
There will not be any tournament fees for any of the teams fishing these events
All boats will need an adult to operating the boat and supervising the teams
Parents/guardians will need to provide transportation to and from these events.
Parent/Guardian must sign the consent form allowing student to fish these tournaments.
Students/families will need to have a boat or access to one that meets tournaments qualifications.
Tournaments qualifications for boats:
Functioning live well, this can be a large cooler with a working aerator
Functioning lights, this can be a clip on battery operated light
A boat large enough to fit 2-3 people
Supplies students will need to participate:
They will need a USCG approved life vest.
They will need a few rod and reel setups.
They will need to provide their own lures, tackle, and artificial baits
Awards
At each tournament a set of plaques will be handed out for first, second, and third place
We are looking at giving out bags of baits and other tackle
We are also looking into gift cards depending on sponsors
Questions?
Parents please feel free to reach out to us or the director Jake Cramer
On Facebook at Gobles Bass Club
or call 269-569-4911
.
.
Results example
| | | | | | |
| --- | --- | --- | --- | --- | --- |
| 1 | | Lake | | | |
| | | | Big Bass | 0.00 | |
| | | Date | Weight | 0.00 | |
| | | | Fish | 0 | |
| | | Gobles Bass Club | Boats | 0 | |
| | | | Dead | 0 | |
| | | | Smallies | 0 | |
| | Place . | Teams. . . . . . . . . . . . . . . . . . . . . . . . . . . . | Fish . . . . | Big Bass . | Weight |
| | 1 | | 0 | 0.00 | 0.00 |
| | 2 | | 0 | 0.00 | 0.00 |
| | 3 | | 0 | 0.00 | 0.00 |
| | 4 | | 0 | 0.00 | 0.00 |
| | 5 | | 0 | 0.00 | 0.00 |